There are children in Sumba and Flores who are all smiles again following the visit of a surgical team from Interplast Australia and New Zealand (IANZ) in March 2010.
"Overall, the our trip to the RSUD Eka Pata Hospital, Waikabubak Sumba was very successful with 56 patients receiving treatment for various problems, including cleft lip/palate and burns contractures, according to team leader Dr Andrew Broadhurst.
The first day of the mission was dedicated to screening and about 60 patients were seen. This included children from all over Sumba and also from an orphanage on Flores Island.
"The Sumba Foundation had done a great job in spreading the word about our work and what surgery we were able to perform," said Nurse Courtney Richardson, from Sydney, Australia.
"This allowed for a high percentage of patients screened being eligible for surgery. Throughout the fortnight we were operating, more patients presented at the hospital. If they had minor ailments, we managed to fit them into our schedule but any major cleft or burns cases were told to present again next year. We took note of all these patients and have already acquired a week's worth of operating for next year. This also includes patients, who are cleft combinations and require further palate surgery next year."
"The surgical work we managed to achieve was made possible through the constant dedication and teamwork of the Sumba Foundation, lead by Dr Jaime Zamzam, Rainy Octora and their helpers as well as the doctors and staff from the Hospital itself," said Dr Broadhurst.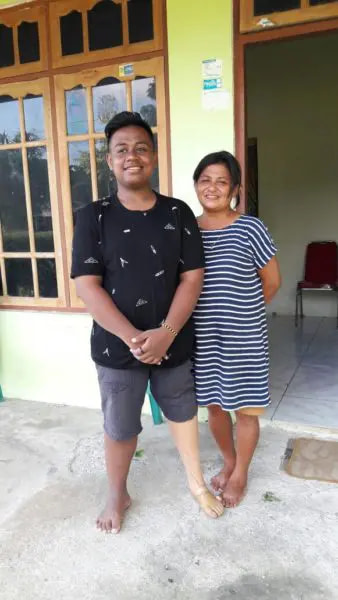 The Interplast Team
Dr Andrew Broadhurst – Team Leader/Plastic Surgeon
Dr Raymond Goh – Plastic Surgeon
Dr Sarah Goetz – Anaesthetist
Dr Christopher Beem – Anaesthetist
Miss Courtney Richardson – Registered Nurse
Miss Georgina Kelly – Registered Nurse
Dr Ali Sundoro – Indonesian Plastic Surgeon Registrar (28th Feb – 7th Mar)
Dr Iqmal Perlianta – Indonesian Plastic Surgeon Registrar (7th Mar – 12th Mar)
The Sumba Team
Dr Jamie Zamzam – Sumba Foundation doctor, in-country contact
Rainy Octora – Sumba Foundation Nurse, malnutrition program and in-country mission coordinator/interpreter
Ita Mani – Interpreter, Sumba Foundation
Ema – Interpreter, Sumba Foundation
Dr Elizabeth – Head of Hospital
Dr Andrew – Head of Surgery at hospital
Medical Superintendent: Andre Dominggus Sugiarto
Head of Surgery: Cokorda Patha (surgeon)
Head of Anaesthesia: Johanis P. Sagho
Head Nurse: Margaretha Djomarah